By way of a perspective on two years of intensive outreach at Liverpool Life Sciences University Technical College...
Introduction Having left my own school, St. Edwards College, in Liverpool in 1977; apart from occasional visits, I hadn't been back to the city until I began a sabbatical year at the Liverpool School of Tropical Medicine in the summer of 2012. During that year, I met up with a longstanding friend, Dr. Geoff Wainwright, co-founder of the Business Development organisation 2Bio, specialising in translation of early stage innovation. Geoff in turn introduced me to Nigel Ward, founder of the North Liverpool Academy (which would subsequently become the Northern Schools Trust, of which more later). This was all made possible by the agreement of my own Department (Molecular Biology and Biotechnology) at the University of Sheffield, who agreed to the secondment. By the end of 2012, we had agreed to join forces to create a new educational vehicle for young scientists at the Liverpool Life Sciences Technical College down in the rapidly growing Baltic Triangle, near the east end of the old docks. Since then I have been Blogging, tweeting, emailing and talking to everyone about how working with young students from age 14-19 has completely changed my views on education. Over the coming summer vacation, the students will take a break and the new intake will get ready for the start of Autumn term. I thought it would be useful to reflect on the last two years and try to capture the essence of why I believe the UTC is developing an important, new way forward for Science education, that I believe addresses most, if not all of the concerns that we hear in the press about: "...the problem with school leavers".
Recruitment. I shall begin
with the students, without whom there would be no UTC! Our youngest students are just shy of 14 years of age, when they bustle into the Innovation Labs for the first time. The sixth form students are mostly 16, with one or two a year older. Prior to entry into the UTC, the students are interviewed over a period of between a month and a year before they arrive; and a premium is placed on their enthusiasm, their attendance and their behaviour records. Oh and of course, a declared interest in Science! Some students will follow courses at GCSE and A level, while others will follow the BTEC route; and yet others will follow a mixed pathway. The two major routes for UTC students can be described as Natural Sciences and Health Care. You may feel that 14 or even 19 is too soon to take career decisions, I happen to think it gives many of the students a strong sense of purpose.
Year 1. All students (Y10/11/12/13) follow the National Curriculum: the
delivery, management and achievements of which are scrutinised just like in any other "school" by Ofsted. The remainder of their time in school, which takes the form of a 9-5 working day, is filled with our "REAL" programme of Research Enhanced Active Learning, which you can read about in an earlier post. The aim of this is simple: following a 6 week induction course in laboratory skills, where new students who typically enter at Y10 or Y12 are trained and assessed in a set of methods that we have called our "skills passport". In short the students become proficient in first year PhD level Molecular Biology methods: this is formally assessed and students can repeat these tests until they move up the scale from Silver, through Gold to Platinum. A detailed description of our skills test can be found here and in documents in the sidebar of this blog. The first objective of our skills training is to develop an appreciation and understanding of
contemporary laboratory skills and to simultaneously support the development of their experimental
dexterity. However much more importantly, it is a device for developing independence in the laboratory alongside an aptitude for teamwork. There is a strong focus on experimental planning and organisational skills and I cannot stress enough: the ability to communicate their science. The impact of this approach is palpable when students return in November after their first half-term break. Gone is the fear of a largely alien laboratory environment, and what emerges are confident, curious and questioning young scientists. As estate agents brochures often say: "an internal inspection is strongly recommended": so too is a visit to the UTC Innovation Labs! Just look at our @lifesciencesutc twitter feed!
As students move through the various phases of assessment, they begin their
first serious laboratory experiment: for the last two years we have carried out a preparation of His-tagged GFP. You can read about this here. This allows me also to give you a flavour of some of the many valuable contributions of our partners. This particular project, incorporating microbiology and biochemistry, with a hint of molecular biology, maps closely onto the technology base at Actavis and was facilitated by the tireless support of Pro-Lab Diagnostics, who helped enormously with equipment and media during our early months. Working in small teams the students worked through an industry inspired approach to obtaining a sample of bright green fluorescent protein using affinity chromatography. This incorporated most of their skills, but importantly taught them the importance of sample labelling, keeping good notes, sample storage and tracking (over 6 weeks). Finally the students presented their results, good, bad and indifferent to a small group of research leader from Actavis (then Eden Biodesign). I was bowled over, and importantly so were the Actavis team! Since then we have developed a range of different presentation formats, from reports, posters, talks and infographics, all of which are key to developing a cohort of
confident,

young scientists.
The final phase of the student experience in the Innovation Labs is the development of student-led (well actually student-devised), projects. Again, I have written about Jack's and Kellie's projects in detail in earlier posts (a plate from Jenny's project on the microbial diversity in domestic drains is shown left). At University, undergraduate students, typically in year 3, select a project from a long list and work (the details will differ from Institution to Institution) alongside an academic supervisor, often with a couple of other students and sometimes a PhD student, to tackle an experimental problem. In my own group at Sheffield, students might be asked to purify an enzyme or clone a gene, or maybe crystallise a protein. The project is generally supervisor driven. I decided to turn the tables on the students at the UTC; since their interests at this stage in their education are much more diverse, and get them to come up with the idea themselves. Through literature searching and a little steering away from major nuclear physics experiments, or those involving human sacrifice, the students eventually develop an embryonic practical idea. This approach has been an unexpected success. Why? It is simple, and teachers know this intuitively. If a student takes ownership of a piece of work, they are driven to pursue it. Hence the "activation energy" barrier is removed and the student engages fully in the project. I am not saying that all science projects should be student led, some students find this very challenging. However, I do believe the option should be made available. Again this is a formative experience for the students: sometime working alone and others in small groups. Once again this is an integral part of shaping our future scientific minds.
I want to finally try and capture why I think the Life Sciences UTC experience works well. It isn't just the Innovation Lab experience that marks out the "phenotype" of UTC students. There is alchemy alongside the chemistry! I shouldn't of course use such a word, but I do because I haven't yet got to the bottom of the mechanism that underpins the ability for students to gain so much from their education at the UTC. For students to benefit from the challenges that I and now Dr. John Dyer will place before them, they have to be prepared and they have to take it all seriously. The behavioural code at the UTC, captured by the strap line: "every day's an interview" makes it very easy to manage large groups of students and sustain their interest for long periods of concentration, often in potentially hazardous laboratories. In addition we have several additional components to the school calendar.
Master Classes. The last two years has seen the UTC play host to some of the country's most impressive industrialists, scientists, medics and educationalists. In the comfortable seats of our cinema, or in the labs/classrooms, students have sat, listened and engaged in discussion with an impressive collection of individuals. Sometimes, as we all know from any typical work experience, these master classes can cut into curriculum classes, or disrupt some other planned event. However, as a big supporter of seminars myself, they have significantly raised aspirations of our students. From a discussion of the use of zebra fish as model organisms, to contemporary surgical methods, and synthetic biology in the Life Science industries, to how I won my Nobel Prize! The master class series has been a key part of the last two years. In the picture chemistry students are being given a hands on introduction to NMR thanks to the University of Liverpool and Dr. Kate Copper who is taking students through the method using their RSC funded portable NMR spectrometer.
Placements. Our partners, who are all listed on the UTC Website, are not only supporters, visitors and presenters of Master Classes, but they also provide all of our students with the opportunity to experience the work place first hand. I cannot tell you how rewarding it is to see their lab books after a few weeks on placement. Or the warm emails from senior staff at the Royal Hospital, Pro-Lab, RedX Pharma, Croda etc etc. (not wishing to leave anyone out at all!). The placement scheme builds student confidence in a way that Schools and Universities cannot. They will remain a major part of the UTC programme and I will return to the partners in a subsequent post.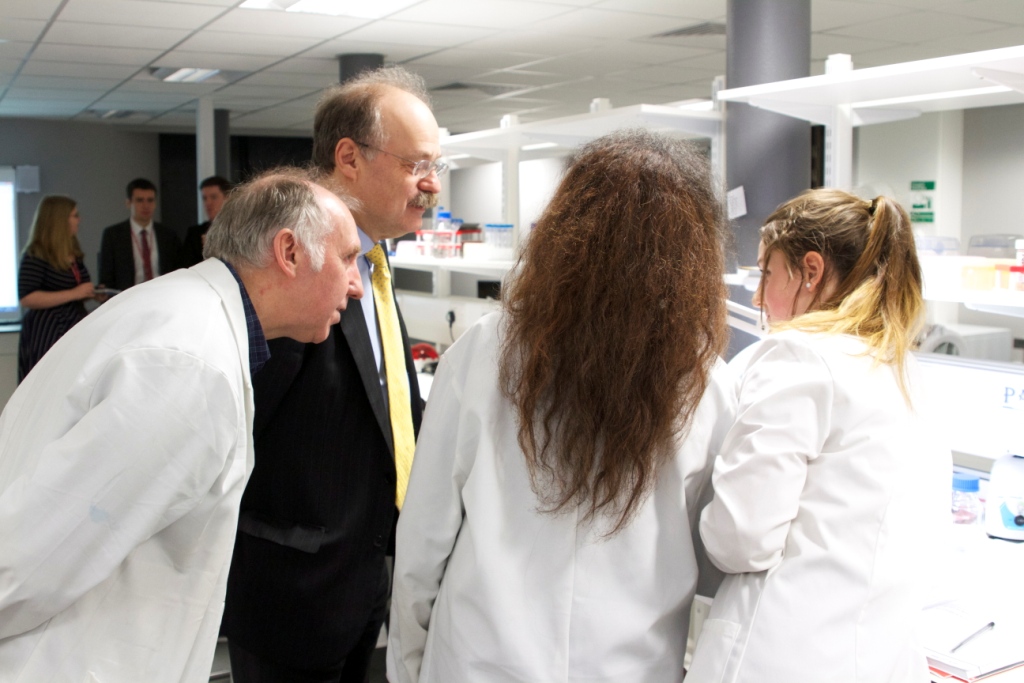 Visitors. The UTC has attracted a huge number of visitors since the minute the
doors opened (and actually beforehand!). I don't think a day has passed without me giving a precis of what the Innovation labs are up to on a given day, or preparing to impress a VIP (On the RHS is Sir Mark Walport who shared his enthusiasm for model organism biology with Y10 and Y12 students). Of course we want to broadcast the message to politicians, industrialists, scientists, teachers and the public in general. However, I have come to realise that the regular throughput of visitors who generally focus on talking to the students and asking them what they are doing as they pipette a few microlitres of DNA into a microfuge tube. As the students gain confidence, they become our best ambassadors and in doing so once again we develop their communication skills and there is nothing more important than scientists of the future being comfortable with communicating with the general public of all ages as well as intimidating experts from industry and academia. The roll call over the last year can be viewed most easily on our twitter feed @lifesciencesutc.
UTC Transmits. The brainchild of Lyndsay Macauley at the UTC, this is a mini-symposium hosted by the University of Liverpool, in which a range of eminent speakers from scientists to politicians, including our own students, deliver short talks on a specific theme (see left). During an afternoon, students from the sixth form attend a symposium and engage in a discussion about the topics presented as if at a professional conference. By combining science, health issues, social issues, personal experiences and politics, students are able to contextualise their classroom and innovation lab knowledge in a way that I have so enjoyed, that I will be introducing to my undergraduates when I get back to Sheffield. This, combined with the Master Classes really inspires the students.
The teachers, the support staff and the governors. Clearly the programme
at the UTC that I have been describing represents only around 25% of their school week. The remainder of the time is taken with curriculum classes and enrichment. As I said earlier the teaching team, let by the UTC's senior management team provide students with a typical portfolio of GCSE, A Level and BTEC pathways all of which match the students' aptitudes, abilities and aspirations. Without the support of the teachers, some in the lab sessions, but all in providing our students with the support to help them achieve their academic ambitions, the UTC's REAL programme would not be possible. I cannot thank them enough for letting me into their world! The school staff are in turn supported by a set of governors, of whom I have already mentioned Nigel Ward and Geoff Wainwright, but there are representatives from parents, partners and the University. Their commitment to supporting me, again both directly and indirectly has been vital to what I believe to be an incredible organisation. Again, I express my thanks to them.
Finally, I have to return to the students, with whom I have shared so much and learned so much. I firmly believe that the frustrations expressed by employers University academics and politicians about the abilities and aptitudes of school leavers can be overcome by challenging students in a supportive environment. The UTC model at Liverpool is one way. Of course I understand the need for teachers and schools to be assessed by Ofsted and given performance labels, but much more importantly we need to look closely at the school experience in a more rounded way and I hope that you will come and visit the UTC to experience first hand, how we getting on with the challenge. A little anecdote from my first few weeks, perhaps explains why I knew this whole involvement with schools was going to work.
The Nobel Foundation announces the annual recipients of the various prizes in early October. The prizes are announce via live streaming from Stockholm and I decided to leave the projector screen on to capture the announcements in the lab. Eventually, after the usual Press Conference delays, the announcement came. First in Swedish! Then in English. At the end, the students, all glued to the screen, burst into a spontaneous round of applause. I knew then this is where I wanted to be! The Nobel Prize week is now a tradition at the UTC and I shall be back there in October 2015!
I have a lot of people to thank in addition to those mentioned, however, I shall defer that to a later Blog over the summer, when the site will be revised a little to reflect the new order for September 2015!